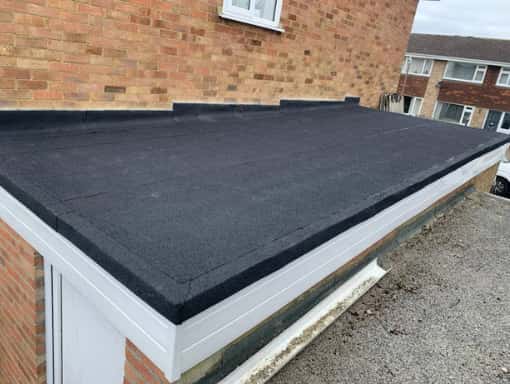 Flat roofing is a common choice for many people, as it offers a range of advantages. Flat roofs are typically less expensive than pitched roofs because there is no need for complex structural elements such as rafters and trusses. Flat roofs also have a greater surface area than pitched roofs, making them ideal for areas that require additional insulation or solar panels. Flat roofs come in various materials, including asphalt shingle, membrane, rubber, and EPDM.
When it comes to flat roof repair, the most commonly used material is roofing felt. Roofing felt is an inexpensive way to protect the underlying structure from water damage while also providing thermal protection against extreme temperatures. The most common type of flat roof repair involves fixing worn areas in the felt that have become brittle or torn. Flat roof repair can also include adding additional layers of felt to strengthen weak spots, patching holes, and sealing seams.
Flat roofs require regular maintenance to ensure they work correctly and provide adequate protection from the elements. This may include cleaning gutters, checking for damage such as cracks or loose shingles, repairing leaks, and removing debris from the roof's surface. Regular inspections should be done to check for any signs of wear or damage – this will help extend the life of your flat roof and prevent expensive repairs in the future.
Overall, flat roofing offers a range of advantages that make it an attractive choice for many homeowners and commercial properties. Flat roofs provide increased insulation while also being more cost-effective to install than pitched roofs. Flat roof repair is essential to keeping your flat roof in top condition. Using materials like roofing felt and regular inspections, you can ensure your flat roof is protected from the elements.
At Hinckley Roofing, we are professional and have many years of experience in flat roofing. We undertake all flat roof services, from minor repairs to an extensive commercial flat roofing installation system. Here are some of our flat roof services:
Fibreglass roof
Flat roof construction
Liquid rubber roofing
Commercial flat roofing
Asphalt flat roofs
Roofing felt system
Flat roof repair
EPDM Rubber Roofing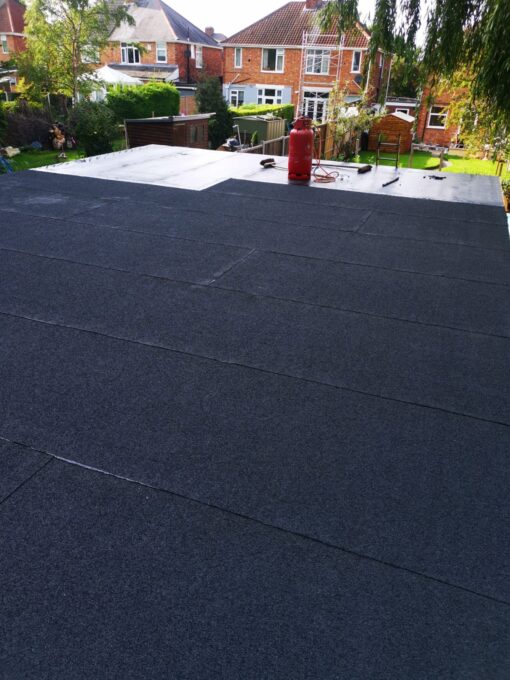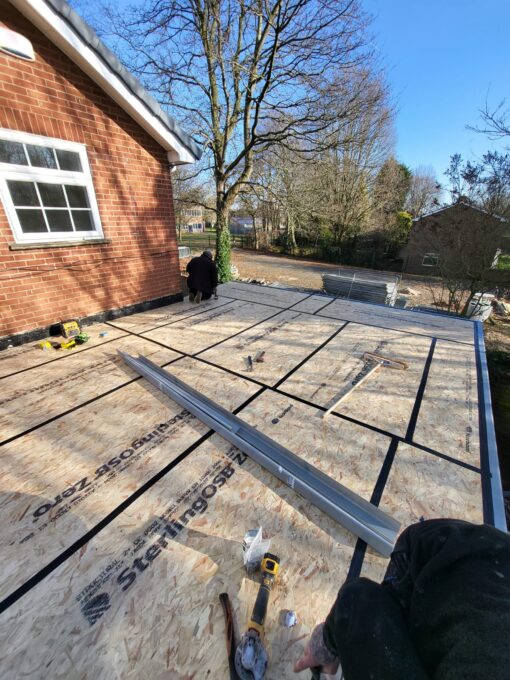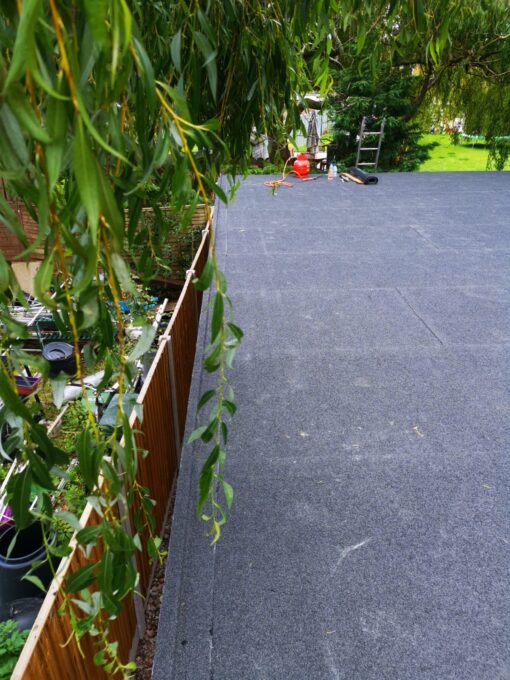 Rubber Roofing
Liquid roofing is a flat roof waterproofing system that uses liquid rubber to create a protective barrier over flat roofs. It offers an effective and reliable solution for flat roof waterproofing, which is essential for keeping the underlying structure of any building safe from water damage. Rubber roofing provides superior protection against moisture, UV rays, and extreme temperature changes, making them ideal for flat roofs exposed to harsh weather conditions. The rubber material used in rubber roofing is available in different grades to ensure protection against various environmental elements. Furthermore, many liquid rubber coatings are also fire-retardant, providing additional safety benefits.
Liquid rubber roofing is an efficient and cost-effective way of ensuring flat roofs remain waterproofed over long periods. The installation process is relatively simple, and most flat roofs can be waterproofed in a single day. Additionally, liquid roof coatings are highly durable and require minimal maintenance over their lifespan. As such, they provide an excellent return on investment for flat roof owners.
Rubber roofing systems are also environmentally friendly as the rubber material is fully recyclable and non-toxic. This makes them a safe option for flat roofs that need to be protected from water damage without causing any harm to the environment.
In conclusion, liquid rubber roofing offers an effective solution for flat roof waterproofing due to its superior protection against moisture, UV rays, and extreme temperature changes. It is efficient and cost-effective with minimal maintenance.
Three standard liquid membrane systems are most prevalent in our market: polymethyl methacrylate (PMMA), polyurethane, and silicone. These systems are seamless, meaning the reinforcement fabric is embedded into the liquid and chemically bonded to the adjacent membrane.
Fibreglass Roof
A fibreglass roof is a flat roof made out of glass-reinforced plastic materials. It is incredibly flexible, durable, and waterproof.
Fibreglass flat roofs are becoming an increasingly popular option for flat roofing. This is because they provide a strong and reliable flat roof system with minimal maintenance requirements and superior longevity. Fibreglass flat roofs are built from a combination of polyester resin, fibreglass matting, hardener, and sometimes fabric, forming a glass-reinforced plastic laminate suitable for domestic and commercial buildings.
These systems offer protection against water ingress and inclement weather that other flat roof coverings can't match. Fibreglass flat roofs will typically remain waterproof for up to 25 years, whereas a traditional felt flat roof might need replacing after 8-15 years. The smooth finish also makes fibreglass flat roofs easy to clean and maintain.
Fibreglass flat roofs are also relatively quick and easy to install, requiring less time than felt flat roofs. This can result in cost savings for the homeowner and business owner and provide a faster installation timeframe.
Overall, fibreglass flat roofs offer a robust, durable flat roof system that is long-lasting and low maintenance – making it an ideal choice for many flat roof applications.
Additionally, fibreglass flat roofs come with excellent insulation properties, which help reduce energy bills due to its ability to prevent heat loss from the building envelope during winter. Furthermore, it does not require regular maintenance or painting like other flat roof coverings, so there's no need for expensive upkeep costs. Fibreglass flat roofs are also resistant to cracking, warping, and splitting over time, adding to its durability.
A fibreglass flat roof is an excellent option for a flat roof that offers superior longevity and low maintenance requirements while still providing excellent protection against water ingress and inclement weather. If you're looking for a flat roofing solution that will last the test of time, this might be a perfect choice.
Roofing Felt

 
Roofing felt is an essential component of flat roofs. Roof felt, also known as tar paper or underlayment, is a sheet of waterproof material that provides an additional layer of protection between the flat roof and the elements. It helps to protect against water damage and wind-blown debris. The use of roof felt can also increase energy efficiency by preventing heat transfer through the flat roof.
Applying a layer of roof felt first is essential when installing flat roofing materials. This should be done before other flat roof materials are installed to protect them from weathering and wear. Roof felt should overlap successive courses by 4-6 inches to ensure maximum coverage and protection from the elements. It should also be secured with flat roofing nails and sealed at the edges, seams, and around protrusions.
It is essential to use high-quality roof felt to ensure the flat roof will last for many years. High-grade roof felt comes in various thicknesses, weights, and colours and should always meet ASTM standards for flat roofs. Roof felt can also be treated with fire retardants or additives for extra protection and water resistance.
By using the correct type of flat roofing materials—including quality roof felt—homeowners can have peace of mind knowing that their flat roofs are well-protected from weather damage and other outside elements. With proper installation and maintenance, flat roofs can provide reliable and affordable protection for many years.
Flat Roof Repair
When it comes to a Flat Roof Repair, the choice of materials used is essential. Flat roofs are typically made from materials such as roofing felt, asphalt, rubber, metal, and other synthetic products. The material used will depend upon the type of roof in question, its exposure to weather conditions, and the budget available for repair or replacement.
For example, an asphalt flat roof may be more cost-effective than a rubber one due to its lower installation costs, but it could require frequent repairs due to wear and tear over time. Metal roofs are generally more durable than other types but can also be susceptible to damage from storms or heavy rain. A synthetic roof membrane such as liquid rubber roofing might offer excellent protection against extreme weather conditions in some cases but may come at a higher cost.
When repairing or replacing Flat Roofs, it is essential to ensure that the job is done accurately and professionally. This will involve checking the existing roof structure for any damage, assessing the condition of existing insulation, and ensuring that all components are properly sealed to prevent further water penetration. The choice of materials used should be appropriate for the particular needs of each project to provide lasting protection. Before beginning a complete Flat Roof Repair, it may also be necessary to carry out minor repairs, such as replacing broken tiles or using a roof sealant application.
Contact us at Hinckley Roofing if you consider undertaking a Flat Roof Repair due to age, weather damage, or general wear and tear. We are highly skilled in all flat roof systems, and our team will advise you on the best approach for your needs. We will discuss the range of available solutions and help guide you through the entire process from initial assessment to completion of the roof repair or replacement.
An amazing service. Stephen took great care on my roof. I was concerned about my Tiles getting damaged and he made sure they were left in perfect condition. He carried out the repair to my ridge tiles perfectly. Highly recommended!
As a property developer, finding decent contractors is difficult.  I've used Stephen a few times for new roofing projects and repairs, and would not go anywhere else. A true professional that takes great pride in his work.
We cover all of Hinckley and the surrounding areas. If you found our site by searching for 'roofing near me' or 'roof repair near me' then we almost certainly will cover your area too.
Whatever your requirements are, please do get in touch anytime and we will deal promptly with your needs.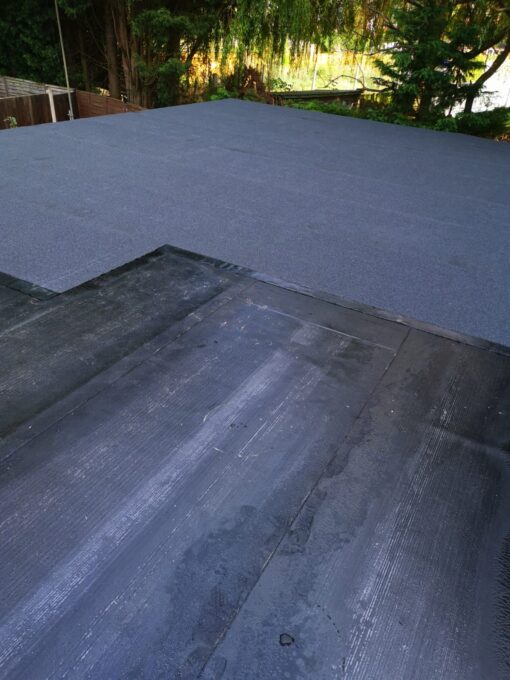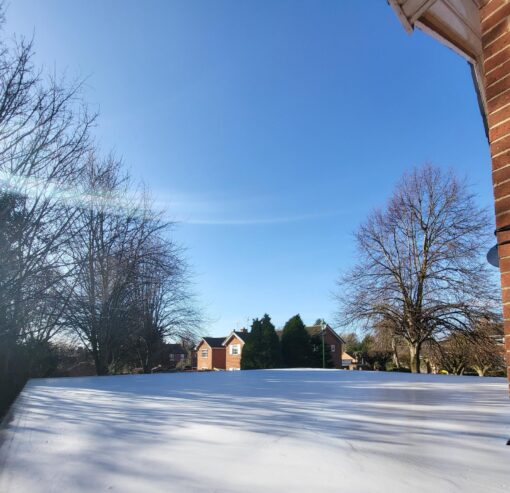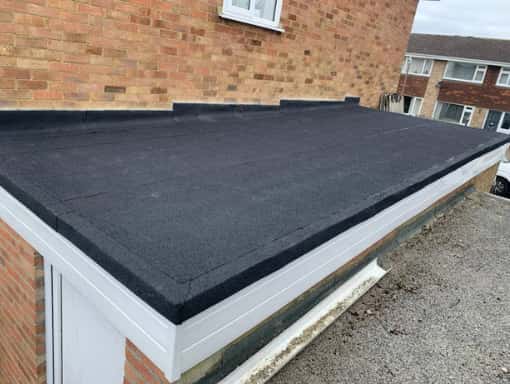 Our other roofing services
Roof Repairs
From slipped tiles, to rafter replacements we take care of it all. Find out more about our roof replacement services.