Fascias Soffits and Guttering Hinckley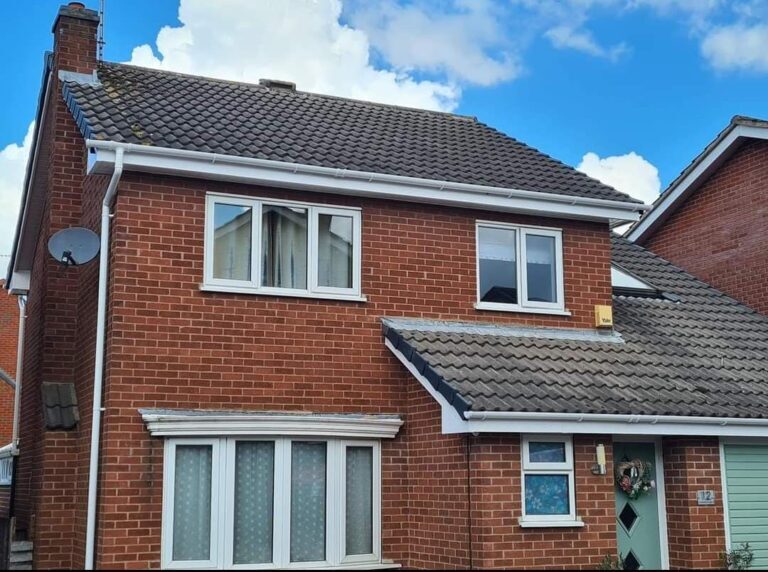 Fascias, Soffits, and Guttering Hinckley
The fascia boards, soffits, and guttering systems are critical in safeguarding the roofline and preventing potential roof damage. These components collect and divert rainwater from the roof and the house's foundation. Failing to maintain these essential features could lead to issues such as water infiltration, mould growth, and damage to the home's structural integrity. It is crucial for homeowners to regularly maintain and inspect their roof's base and guttering system. This ensures their property remains protected from water damage and other weather-related problems. By regularly checking and maintaining these elements, homeowners can help prolong the life of their roofs and prevent costly repairs in the long run.

 

Hinckley Roofing is an expert in offering high-quality Fascias, Soffits, and Guttering services. We endeavour to provide our clients with the highest calibre of service. Our team are highly qualified experts with extensive roofing knowledge and experience. We have the most up-to-date tools and technology to handle any Fascias, Soffits, and Guttering project. Hinckley Roofing is committed to utilising only high-quality materials for our installations to ensure they are visually appealing, durable, and long-lasting.

 

At Hinckley Roofing, we take great pride in offering our clients a complete and thorough service encompassing all aspects of Fascia, soffit, and guttering installations. Our services include repairs, replacements, as well as the installation of new systems. Our experienced team is skilled, friendly, and polite, dedicated to collaborating with our clients to comprehend their unique needs and preferences. We also tailor a customised solution that best fits their budget and schedule. We're committed to providing high-quality workmanship and exceptional customer service to ensure our clients' satisfaction which sets us apart from others in the same industry.

We follow strict guidelines and adhere to industry best practices to ensure that our Fascias, Soffits, and Guttering installations are safe, secure, and built to last. This commitment to quality and best practices extends to all our other services.

 
Fascia Board
The fascia boards are attached to the roof trusses and located at the roof's edge and the gutter line. They support the Guttering and the tiles on the bottom of the roofline.

 

The fascia boards are constructed using durable materials such as uPVC, PVCu, plastic, fibre cement, vinyl, wood, or aluminium. Their primary purpose is to support the guttering system and prevent moisture and other elements from penetrating the roof tiles. A box end is attached to the end of the fascia board to protect its outer borders and gives it a lovely appearance. The box end is available in various designs to complement individual preferences. Regular maintenance and inspection are vital for preserving the roof and the house's structural integrity. By doing so, the plastic fascia board will remain in excellent condition and continue to provide the necessary protection to the home and roof structure.

 
Soffits
Soffits are located beneath the fascia board and are frequently observable from the ground. They feature soffit vents and are essential in ventilating the roof space, which is necessary to keep the attic and roof structure dry and prevent mould or damp development. Apart from soffit ventilation, the soffit safeguards the roof and house structure by blocking moisture and other elements from entering the roof space or attic. It's crucial to regularly inspect and maintain the soffit to ensure they function effectively and keep the roof and home structure safe.
Guttering
Guttering is a network of channels and pipes that gather and direct rainwater from the roof to the ground. Its primary purpose is to prevent water from running down the exterior walls of a house, which can damage the foundation, walls, and surrounding landscape. The choice of guttering material and design relies on the local weather conditions, budget, and personal taste. Regular cleaning and upkeep of the guttering system are vital to effectively directing water away from the home. 
Guttering shields the roof and house structure from water damage and other weather-induced factors. A properly working guttering system will keep the home's interior dry, safeguarding the ceiling, walls, and foundation, ultimately prolonging these vital components' life. Neglecting to inspect and maintain the Guttering can result in costly repairs and the possibility of significant renovations. Many types of guttering systems are available, including Ogee guttering, Flopast Guttering, Hedgehog guttering, and square Guttering. These are also available in various colours to suit personal style.
Gutter Repair
Gutter repairs can help protect your home from water damage, as well as other costly repairs. Guttering systems are designed to keep rainwater away from the foundation of a home or building, but over time they may become damaged and require repair or replacement. Experienced professionals at Hinckley Roofing can perform gutter repairs quickly and efficiently. Gutter repairs may involve:
Patching holes or cracks in the gutter system with sealant.

Replacing sections of gutters that have been torn or cracked off due to weather conditions.

Cleaning out clogged gutters filled with debris.

Gutter replacement
Gutter repairs should be taken seriously; if left unaddressed, the problems caused by damaged gutters can cause costly repairs. Hinckley Roofing's experienced professionals can help you determine the best solution for your Gutter repair needs and provide a quality, reliable service. Contact us today to learn more about Gutter repair services in Hinckley!
Hinckley Roofing is dedicated to providing superior Guttering Repairs that will help protect your home from water damage and other costly repairs caused by a damaged gutter system. Our experienced technicians are trained to identify the root cause of Gutter-related issues and quickly resolve them with lasting solutions. From patching holes to replacing sections of gutters torn off due to weather conditions or a complete gutter replacement system, depending on the damage. 
Maintenance and Upgrades for Fascias, Soffits, and Guttering
Maintaining and cleaning the Fascias, Soffits and Guttering is crucial to ensure proper function and protection of the roof and house structure. We suggest regularly inspecting and clearing them of blockages, such as leaves and twigs, that could clog the guttering system. Additionally, it's important to promptly repair any cracks, holes, or other indications of damage. Frequent cleaning and maintenance will help prolong the life of the Fascias, Soffits and Guttering and prevent expensive repairs.

 

Several options are available for individuals seeking improved protection and aesthetics for their Fascias, Soffits and Guttering. One possibility is upgrading to durable and weather-resistant materials, such as aluminium guttering or uPVC components. Homeowners may also choose to increase the capacity of their guttering system by upgrading to a larger size. These components are available in various colours and styles to match personal preferences. Ultimately, the choice of an upgrade will depend on the homeowner's requirements and tastes. Working with a professional ensures the upgrade is installed correctly and produces the desired outcome.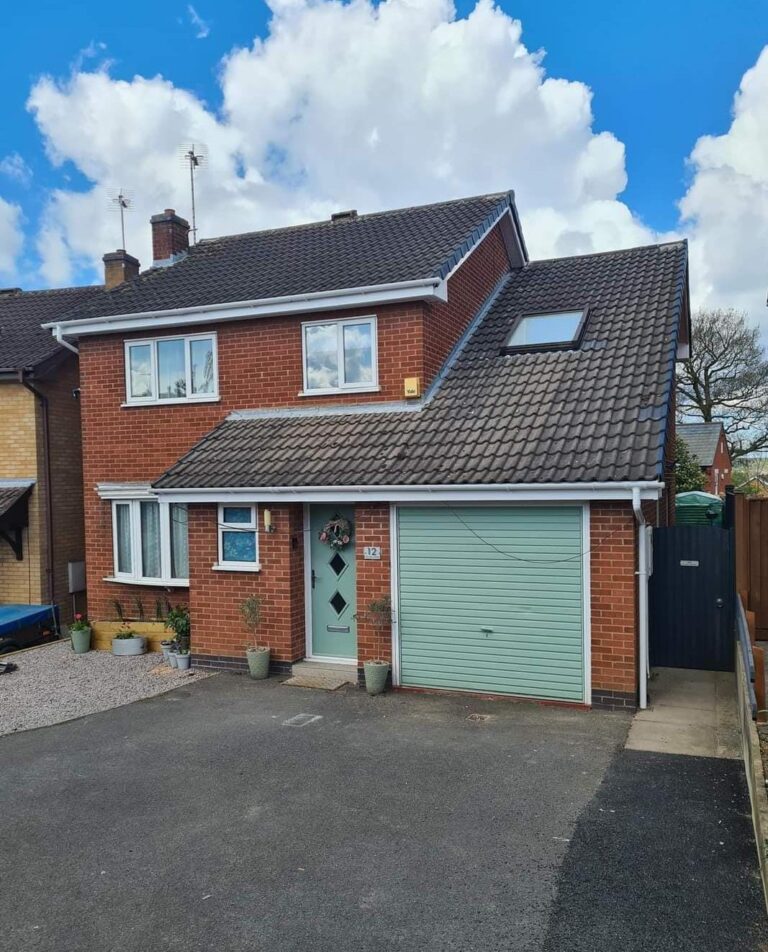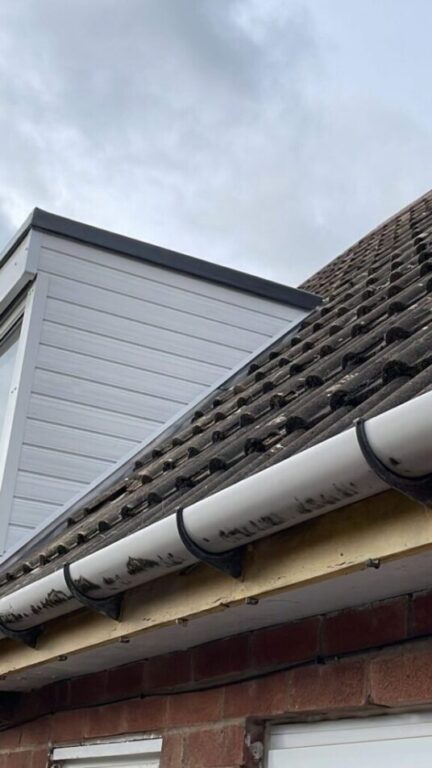 What is the purpose of a Fascia Board?
The primary role of a Fascia Board is to prevent water-related damage to the interior and exterior of your home. Additionally, it adds a pleasing aesthetic element to the property's exterior. These boards are slim, and long panels are mounted just beneath the roofline, providing an attractive cover for the visible rafters or trusses of the roof. Fascia Boards are made from various materials, including wood, aluminium, plastic, vinyl, or composite materials. When it comes to exterior home maintenance, installing Fascia Boards is vital. It offers extra protection against the elements and boosts the overall appearance of your property.
What are the different types of Fascia Boards?
Fascia boards are available in various sizes, materials, and designs. Among these, PVC fascia boards are the most used due to their cost-effectiveness, sturdiness, and minimal maintenance requirements. Conversely, wood fascia boards are less preferred as they need more upkeep than PVC boards. For contemporary homes or commercial properties, aluminium and steel fascia boards are utilised. Still, they are more costly than PVC or wood fascia boards. Another option is unplasticized vinyl Fascia Boards.
Can you put Fascia over existing wood?
Yes, installing fascia boards on top of existing wood is possible. Typically made from PVC, composite, or aluminium, these boards can be fixed directly onto the wooden posts to provide a neat finish to the rafter tails. When doing this, using long enough fixings to penetrate the board and the underlying wood is essential. The condition of the timber is also crucial, and any rotten parts should be removed and replaced before installation. Adding uPVC cladding can protect the original fascias. 
Do you install Fascia or Soffit first?
Following the correct sequence is crucial to install Fascia and Soffit boards correctly. The first step is installing the Fascia boards before the Soffit boards, as it provides a solid foundation for them to be attached securely. This process also helps minimise gaps between the Fascia and Soffit, giving the roofline a neat and uniform appearance. It is recommended to cut the Fascia boards to the required size on site or beforehand and ensure that all corners fit together precisely. Once the Fascia boards are securely in place, you can install the Soffit boards, typically starting from one end of the house and progressing across the gutter line.
What is the life expectancy of a fascia and soffit board?
Fascias and Soffits play a vital role in safeguarding the exterior of a house from water damage and other weather-related hazards. The lifespan of these components depends on various factors, including the chosen material, weather conditions, and the quality of installation. High-quality Fascias and Soffits can last up to 50 years in optimal conditions. However, those made of vinyl or wood composite materials may last for about 25-30 years. Regular inspections and timely repairs are crucial to maintaining the Fascias and Soffits. With proper upkeep, these panels can offer long-lasting protection to the exterior of a house.
What is the purpose of a Soffit?
As with many other components, a soffit is essential to safeguarding a house from weather and different types of harm. Typically, soffits are either wood or aluminium, shielding the undersides of eaves that can be vulnerable to water damage if unprotected. They prevent rain and snow accumulation in these areas and provide extra insulation. Soffits have a tidy appearance, which can help enhance the overall aesthetic appeal of a home. Since soffits are exposed to the elements every day, they should be regularly inspected for any signs of damage. If you detect any wear and tear indications, Repairing or replacing them as soon as possible is essential to safeguard your property.
What are the common problems with Soffits and Fascias?
Regular maintenance of soffits and Fascia is crucial as these components can suffer from several joint issues. Water damage from rain and snow and pest infestation by birds, rodents, and squirrels are the most frequent problems with soffits and Fascia. Poor maintenance or improper installation can cause soffits to become breached, while moisture and humidity can cause Fascia to rot. Exposure to harsh temperatures can also lead to cracking or warping soffits and Fascia, which can cause further damage. Moreover, poor installation can lead to inadequate ventilation and air circulation in the attic, causing condensation issues. Homeowners should conduct regular inspections to detect and address any problems with these components.
What are the most common problems with Guttering?
The primary issue with gutters is blockage caused by debris, including leaves, twigs, and other materials. This blockage stops water from flowing through the gutters and can lead to overflow, which can cause damage to your property and foundation. Regular cleaning and maintenance are necessary to avoid these common issues. Homeowners must also ensure their gutters don't have holes or cracks and that the downpipes are working correctly. Seeking the services of a qualified and professional gutter maintenance company for repairs is highly recommended. You can safeguard your property and ensure the durability of your roof by keeping your gutters in good condition.
What are the different gutter styles?
As a customer, you can select from three primary types of Guttering: K-style, Half-round, and Box Gutter. K-Style Guttering is typically made of vinyl or aluminium. It has a flat back and a curved front that resembles the letter "K." It is also commonly used in the United States. You may choose various sizes and colours to match your home's siding.

 

Half-round Guttering is typically made of copper or zinc and is semi-circular. It is a more expensive option than K-style Guttering. It also comes in many sizes and colours to match the exterior of your property.

 

Box Gutter is designed to enclose the gutters and downspouts along the roof line, providing a hidden appearance. It is the most expensive option and requires more installation than the other two styles. However, it gives the added advantage of protecting your home's foundation from water damage.

Regardless of your style, ensuring proper installation for practical functionality is crucial. Guttering is critical for safeguarding your home from water damage, so choosing the appropriate type that meets your home's needs is essential.
An amazing service. Stephen took great care on my roof. I was concerned about my Tiles getting damaged and he made sure they were left in perfect condition. He carried out the repair to my ridge tiles perfectly. Highly recommended!
As a property developer, finding decent contractors is difficult.  I've used Stephen a few times for new roofing projects and repairs, and would not go anywhere else. A true professional that takes great pride in his work.
We cover all of Hinckley and the surrounding areas including Barwell. If you found our site by searching for 'roofing near me' or 'roof repair near me' then we almost certainly will cover your area too.
Whatever your requirements are, please do get in touch anytime and we will deal promptly with your needs.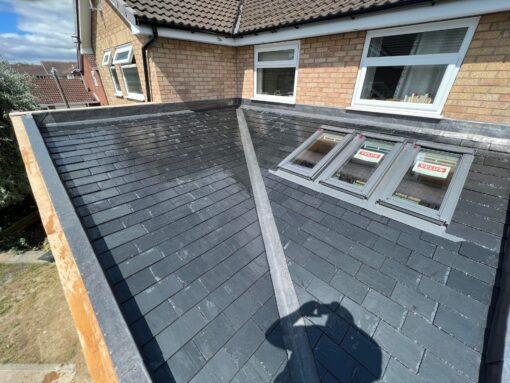 Our other roofing services
Roof Repairs
From slipped tiles, to rafter replacements we take care of it all. Find out more about our roof replacement services.
Other ROOFING SERVICES
Leadwork
Roof Inspections
Roof Surveys
We cater for all roof services.