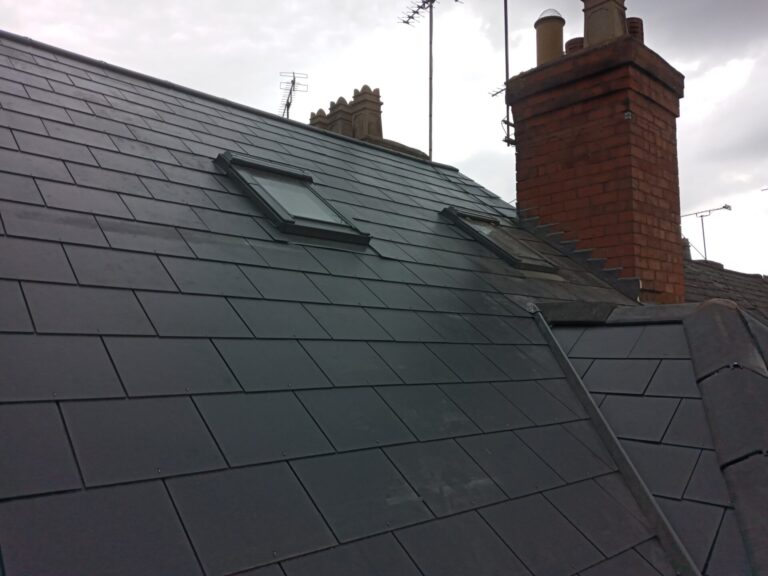 Chimneys are an essential part of any property with a fireplace or a heating system that requires a flue. A chimney stack is a vertical structure that extends above the roofline, designed to allow the safe discharge of smoke and harmful gases from your property. A chimney is often exposed to the elements and can suffer from weather damage, wear, and tear over time. Therefore, keeping the chimney stack in top condition through regular maintenance and repairs is crucial.
Hinckley Roofing understands the importance of a well-maintained chimney. A poorly kept chimney can lead to structural problems for the roof and cause potential leaks and water damage to your property. Over time, weather damage can cause the mortar to erode, and the bricks can crack, leading to a weakened structure.
It's vital to keep an eye out for warning signs that may indicate that your chimney requires repair. Some symptoms include cracks in the chimney stack, mortar damage, missing or damaged chimney pots, damp or watermarks around the chimney area, or any debris or falling material from the chimney. If you notice these signs, it's vital to contact Hinckley roofing for an inspection and assessment of the damage.
Our professional roofers can inspect your chimney and determine the level of repair needed. We provide a comprehensive range of chimney repairs services that include the following:
Lead flashing,
Rebuilding chimney stacks and re-capping pots
Flaunching
Chimney repointing
Chimney removal
Chimney rebuilds.
Chimney stack repairs
We have the necessary skills, tools, and expertise to restore your chimney to its original condition, ensuring your property remains safe and dry. It's essential to ensure that your chimney is kept in top condition to prevent any potential damage to your property. Regular maintenance and chimney repairs can save you money in the long run and avoid any potential safety hazards. Hinckley roofing services can provide the necessary chimney repairs and maintenance to ensure your property is safe and secure.
Chimney Stack
The degradation of the mortar between the bricks of your chimney stack is a frequent cause of damage. As time passes, the mortar can deteriorate and disintegrate, leading to an unsightly appearance and a significant decrease in the strength and durability of the chimney. This issue is a matter of great concern as it poses a potential threat to the safety of your property and the surrounding environment. Prompt action is necessary to address this problem and protect your property.
Repointing a chimney
When repointing a chimney, we initiate the process by conducting a thorough inspection of the chimney to evaluate the necessary repairs. Our first step is extracting the worn-out and crumbling mortar between the bricks. We substitute the damaged mortar with new and durable material and repoint the chimney. The primary aim of this procedure is to prevent any further wear and tear caused by weathering and maintain the chimney's structural integrity.
Lead Flashing
Lead flashing is a principal component of chimneys, as it seals the gaps between the chimney stack and the roof tiles to prevent water from entering. Neglecting the upkeep of lead flashing can lead to it becoming brittle or corroded, which can compromise the chimney's safety. Therefore, replacing the lead flashing is necessary to ensure your chimney's longevity and security. The importance of leadwork cannot be overstated, as it is an essential element of any resilient chimney and critical to its overall well-being.
 Flaunching
Chimney flaunching is a robust mortar that keeps your chimney pots firmly secured. It creates a formidable waterproof barrier that safeguards both the inside and outside of your chimney stack, thus aiding in keeping your home dry. The best course of action in cases of damage brought on by flaunching failure is frequently to replace it with mortar made of lime or grit and cement. You should seek professional advice from a local roofing contractor for guidance.
Chimney Stack Removal
We offer a service for removing the chimney stack above the roofline of your property, should you wish to do so. Obtaining building regulations to remove the chimney stack above the roofline is unnecessary. However, if you plan to remove the chimney stack throughout the house, you must apply for the appropriate building regulations from your local council. Building regulations encompass all aspects of the construction project. They are designed to protect the health and safety of the individuals residing inside the property. You may visit your local council's website for further information on building regulations in Hinckley.
https://www.hinckley-bosworth.gov.uk/buildingcontrol
At Hinckley Roofing, we acknowledge the importance of chimney maintenance in maintaining the safety and security of your home. Our team has extensive experience in chimney repairs and maintenance, and we only use top-quality materials for all our projects. In case of emergencies, our team is available for callouts. Feel free to contact us without hesitation if you have any problems with your chimney. At Hinckley Roofing, we take great care to ensure that the job is executed flawlessly and to the highest standard. We always use durable materials that are guaranteed to last for several years.
Our experienced roofers will assess your requirements upon arrival at your property and offer a competitive solution that meets your needs. For more information on Chimney Repairs, please don't hesitate to contact us today.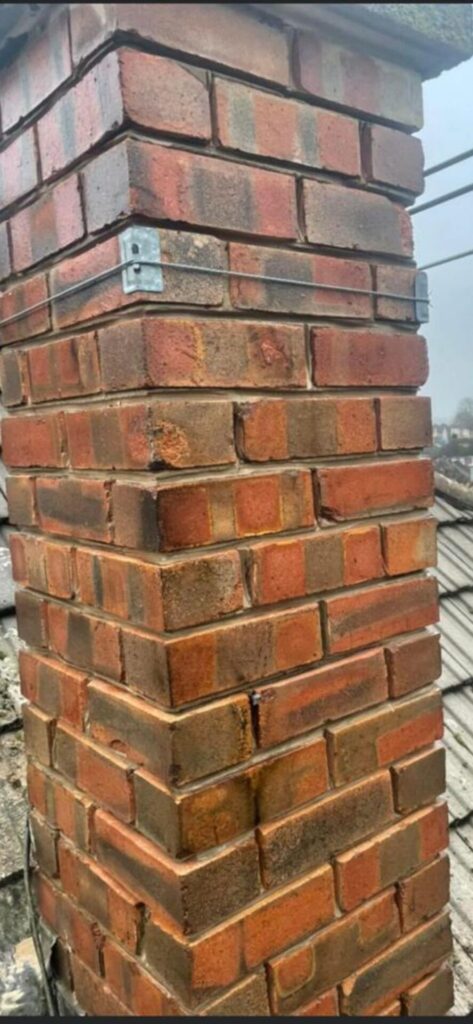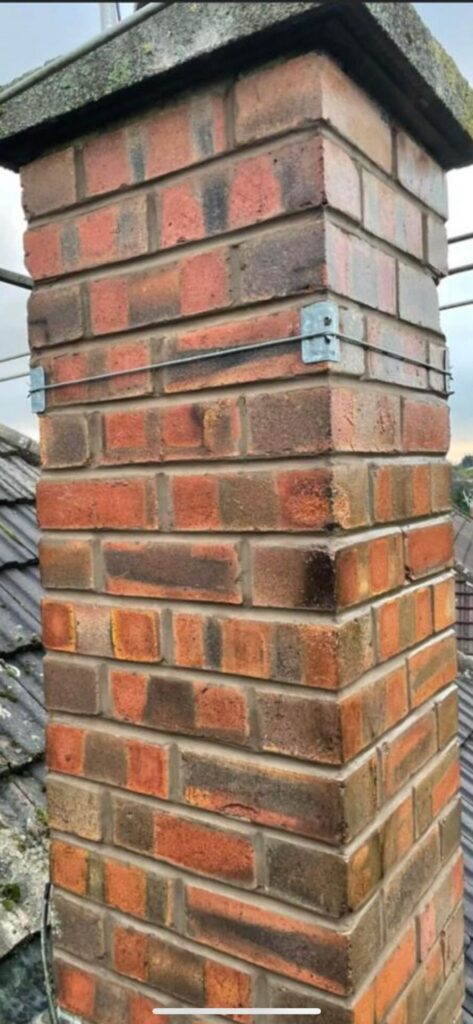 How often do chimneys need repointing?
Chimneys typically require repointing every few years. However, the frequency of repointing can depend on factors like the quality of the original build, weather conditions, and the level of maintenance the chimney has received. It's best to have your chimney inspected regularly by a professional roofer to determine when repointing is necessary.
Can a roofer fix a chimney?
Yes, a professional roofer can fix a chimney. Roofers with experience in chimney repairs can carry out a variety of repairs, including repointing, replacing lead flashing, flaunching, and more. It's essential to hire a qualified and experienced roofer to ensure that the job is done correctly and to a high standard.
How can I tell if my chimney needs repointing?
You may need to repoint your chimney if you notice that the mortar between the bricks is crumbling, cracked, or missing. You might see water stains on your chimney or loose or leaning bricks. If you notice these signs, it's best to contact a professional roofer to inspect your chimney and determine whether it needs repointing or other repairs.
Can you repoint over old pointing?
Repointing over previous pointing is possible in some circumstances, but it is typically not advised. To ensure proper adherence to the new mortar and more durable repairs while repointing the chimney, it is usually advisable to remove the old pointing. However, the most excellent course of action will depend on the specifics of your chimney. A knowledgeable roofer can advise you on the best step for your circumstance.
An amazing service. Stephen took great care on my roof. I was concerned about my Tiles getting damaged and he made sure they were left in perfect condition. He carried out the repair to my ridge tiles perfectly. Highly recommended!
As a property developer, finding decent contractors is difficult.  I've used Stephen a few times for new roofing projects and repairs, and would not go anywhere else. A true professional that takes great pride in his work.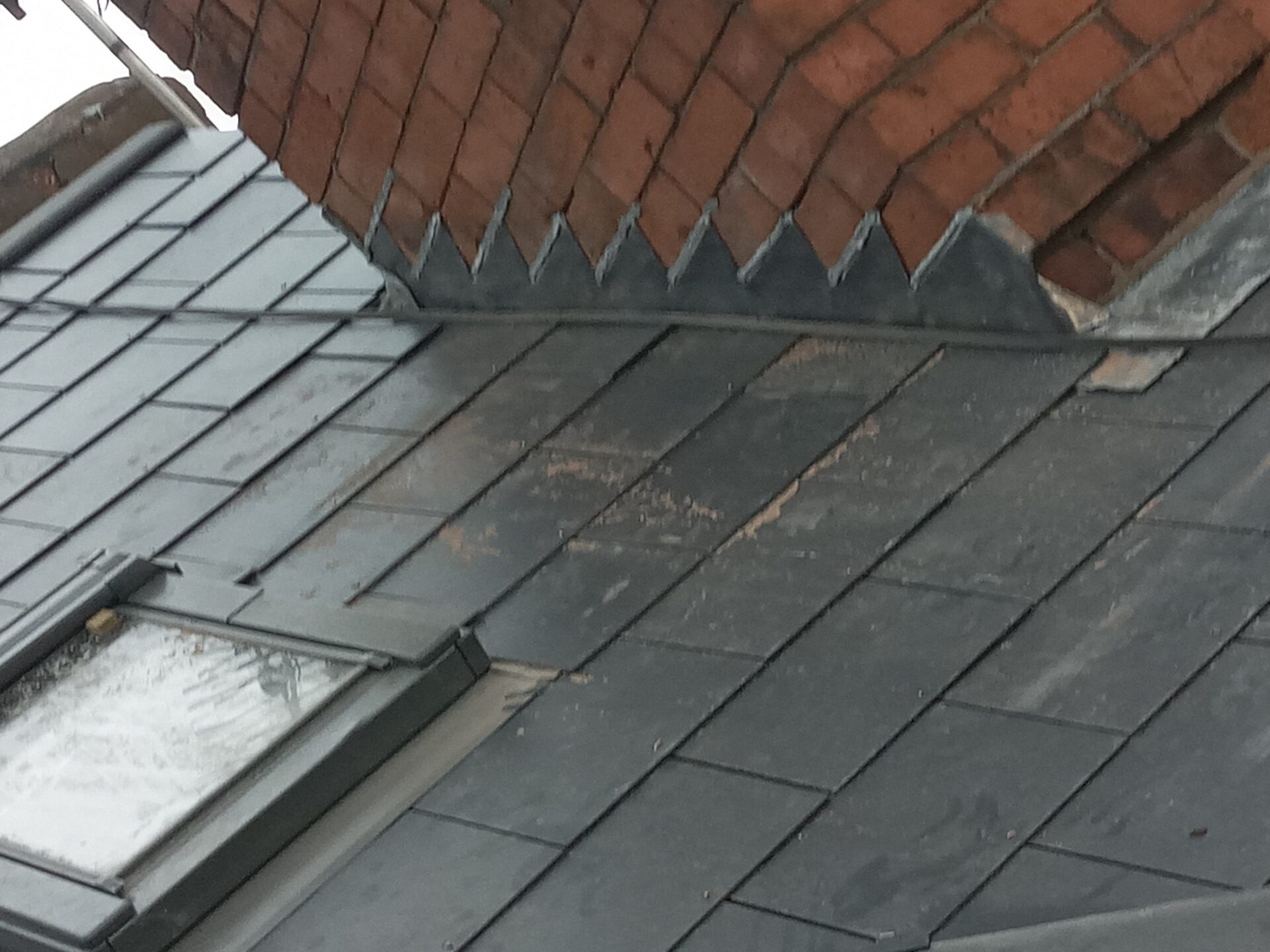 Our other roofing services
Roof Repairs
From slipped tiles, to rafter replacements we take care of it all. Find out more about our roof replacement services.
Other ROOFING SERVICES
Leadwork
Roof Inspections
Roof Surveys
We cater for all roof services.